Held at: HVB Global Academy, Marine Line
Participants: Aarush Prasad, Krish Dewekar, Sia Narwekar, Shivani Patil, Tanvi Bangar, Vidit Vijay Dongre, Vivek Aditya Sharma, Vedant Shah, Ananya Shri Adiraju, Sheetal Sangwan, Lynette George, Harsh Aditya Sharma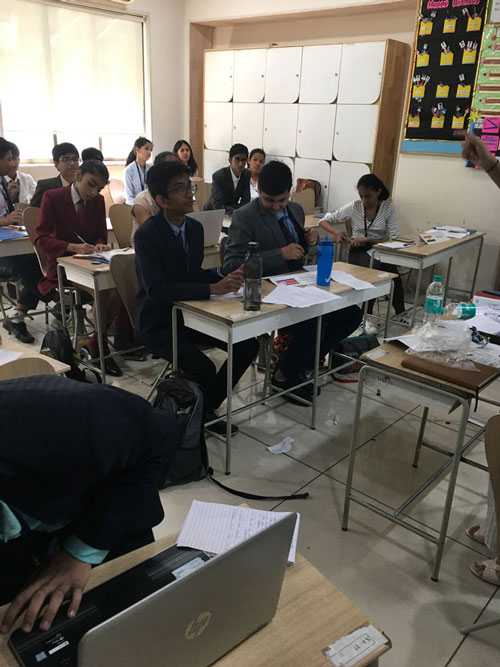 Diplomathon is a Two Day Student Conference which provides students with an opportunity to get exposure in International Relations, Public Speaking & World Affairs. It is a reproduction of Global Organisations which reflect the Indian Diplomacy portrait, including the BRICS, SAARC & avant-garde moots. Diplomathon 2018 was conducted this year with MISA as official student outreach partner, by the organization in three schools in Mumbai on 8th and 9th September, 2018. The students of Dr. Pillai Global Academy participated in the event held at HVB Global Academy, Marine Line. Our students participated in 'Diplomathon', 2018 as delegates of different countries like Russia, Morocco and Belgium. They were part of committees like ASEAN, ICJ, World Bank, BRICS. Many students from grade 6 also participated for the first time in innovative committees like Harry Potter, FIFA, MARVEL and actively participated in the discussions of committees on Global issues. The organizers also conducted a spaghetti- marshmellow challenge for teacher facilitators.
The Delegate team of Dr. Pillai Global Academy was adjudged as the third best team with awards won in following categories:
Best Delegate: Vikrant Jadhav (FIFA)
Special Mention: Vivek Aditya Sharma (World Bank)
Oral Mention: Harsh Aditya Sharma (ICJ)