Football Frenzy!
~ "Hard work paves the route to achieving success"
Football truly is a glorious sport capable of igniting the passion and excitement in even the most passive spectator. This phenomenon was on full display during the Inter-school MES football tournament that took place on the 27th and 29th of September and was a bout to be remembered for the ages.
On 27th September, the girls' tournament took place hosting a grand total of five teams, each with a burning passion to bring home a title which, inevitably, was imprinted onto the crowd who carried forward that wave of enthusiasm across all events. Following its closure, it is with great pride that DPGA, Panvel, exhibits several winners. The under-14 team soared above the competition and made their way to the finals against Dr. Pillai Global Academy, Gorai, where Inaaya Habib (8A), Jia Shah (8A), and Ruchika Jatia (8A) put forward a fierce offense while Driti Karwa (7A) and Shreya Singh (7B) held down the defense. With commendable goalkeeping by Divya Kadam (7A), saving upwards of three goal attempts, the score remained at an unwavering 0-0, forcing the game to penalties where they prevailed, scoring 2-1.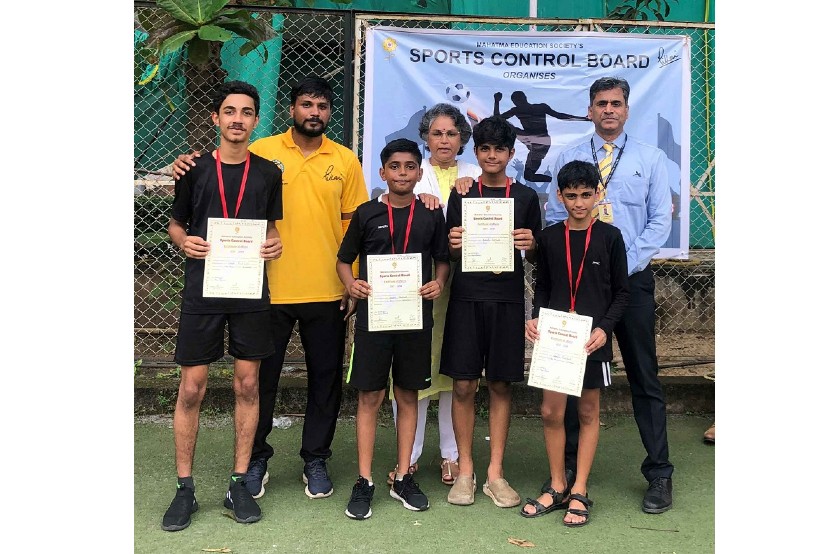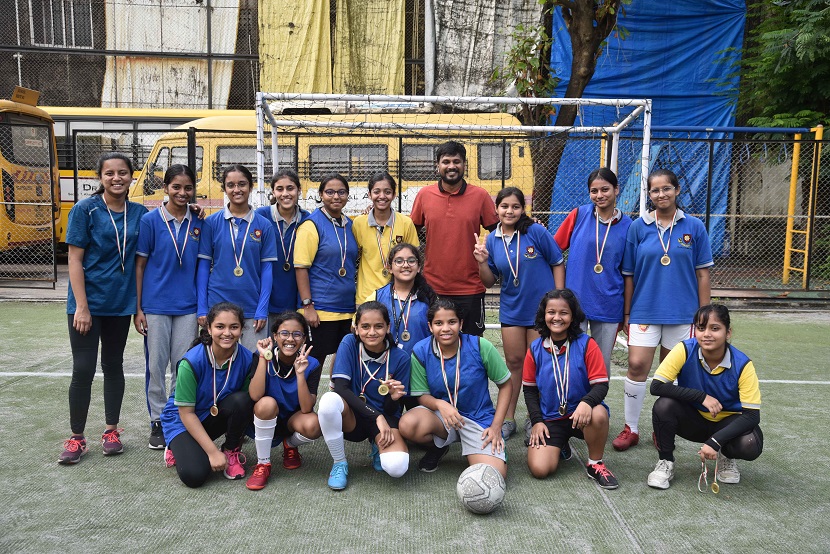 The under-19 matches followed a similar fate, facing Pillai HOC College of Engineering and Technology, sporting an offense consisting of Inaaya Habib (8A), and Zainab Shaikh (IB2), showcasing a plethora of tactics to best their opponents while Ashlesha Tiwari (IB2) and Shrushti Jadav (9B) at defense and Prisha Wani (8B) as goalkeeper fended off a fury of goal attempts. With all this said, DPGA Gorai did put up a fair fight, and time was called at a score of 0-0, later closing the game to 3-2 in penalties and bringing home yet another win.
The under-17 team, despite a fair attempt, did get knocked out of the competition early on but we hope to see them back next time more determined than ever to reclaim the title.
| U-14 | U-17 | U-19 |
| --- | --- | --- |
| Inaaya Habib | Prisha Wani | Aahna Vijay |
| Jia Shah | Srushti Jadhav | Zainab Shaikh |
| Nivriti Nair | Ruchika Jatia | Ashlesha Tiwari |
| Ruchika Jatia | Jia Shah | Jia Shah |
| Shrushti Phadke | Inaaya Habib | Prisha Wani |
| Tanishka Sachdev | Kanya Patil | Ruchika Jatia |
| Shreya Singh | Kaavya Aggarwal | Shrushti Jadav |
| Divya Kadam | Sanyami Jagadale | Kaavya Aggarwal |
| | Shrushti Phadke | Kreethika Guruprasad |
| | | Srushti Phadke |
The boys' matches occurred two days later, on 29th September, The under-19 team proved to be a force to be reckoned with. The defense for this team was composed of Shreesiddhi Ghosalkar (AS Levels), Siddesh Korde (9A), Jay Mahatre (10B) and goalkeeping by Akshath Narasimhan (9B). The players on offense were Arya Bhoir (10B), Mrigesh Marri (IB2), and Sehaj Singh (10B);[1] the chemistry seen on the field was a sight to behold as the team gracefully maneuvered through the opposition and rose to the finals against DPGA Gorai, maintaining a score of 0-0 leading to penalties yet again, securing second place and a win nonetheless for our school. The under-19 matches played on the day were filled with tense moments which kept the spectators at the edge of their seats as the teams played neck-to-neck to take home a win and do justice to their efforts.
The under-17 team, unfortunately, struck out in the tournament despite a valiant effort in which they faced off against Mahatma International School where they held their own to an even score of 0-0, forcing the game into penalties where they fell just short of the mark.
| U-19 | U-17 | U-14 |
| --- | --- | --- |
| Harshvardhan Reddy | Shreesiddhi Ghosalkar | Austin Anoop |
| Neil Issac Ignatios Dsouza | Arya Bhoir | Aayush Praveen |
| Sehaj Singh | Aayush Praveen | Ameya Patwe |
| Mrigesh Marri | Akshath Narasimhan | Abu Sheikh |
| Shreesiddhi Ghosalkar | Siddhant Ramteke | Soham Aditya |
| Siddesh Korde | Sehaj Singh | Dhruv Waghmare |
| Jay Mahatre | Vansh Mirani | Vihaan |
| | Aarya Shelar | Pierre |
| | Siddesh Korde | |
To top off the victory streak, the under-14 team won first place in the tournament, closing out the game against DPGA Gorai, with an even score of 0-0. There was no obvious winner from the get-go and every attempt to score was reciprocated with immense ferocity, this then led the game to a series of nerve-racking penalties in which they ultimately prevailed with a golden goal scored by Aayush Praveen(8B), resulting in an electric celebration energizing the crowd and capping off the day on a high note. The perfect send-off to the absolute success of this event has been, and an addition to the collection of accolades earned by the refined talent within the school, representing a symbol of their sky-high potential. The sense of pride and accomplishment felt at the culmination of this tournament was virtually unmatched and perfectly encapsulates the passion for the sport!
Author: Antony Dawson Chettattukaran
AS Levels