The auditorium boomed with the voice of greetings by Aditya, the compeer at the strike of 9:30 am. The ceremony began with a beautiful prayer dance performed by Ms. Shiny Jomon and Mrs. Mrinalini Kalita, both Staff members, followed by a melodious welcome song performed by the school choir. After this, bouquets were handed out to our esteemed chief guest and guest of Honour as a small token of our appreciation.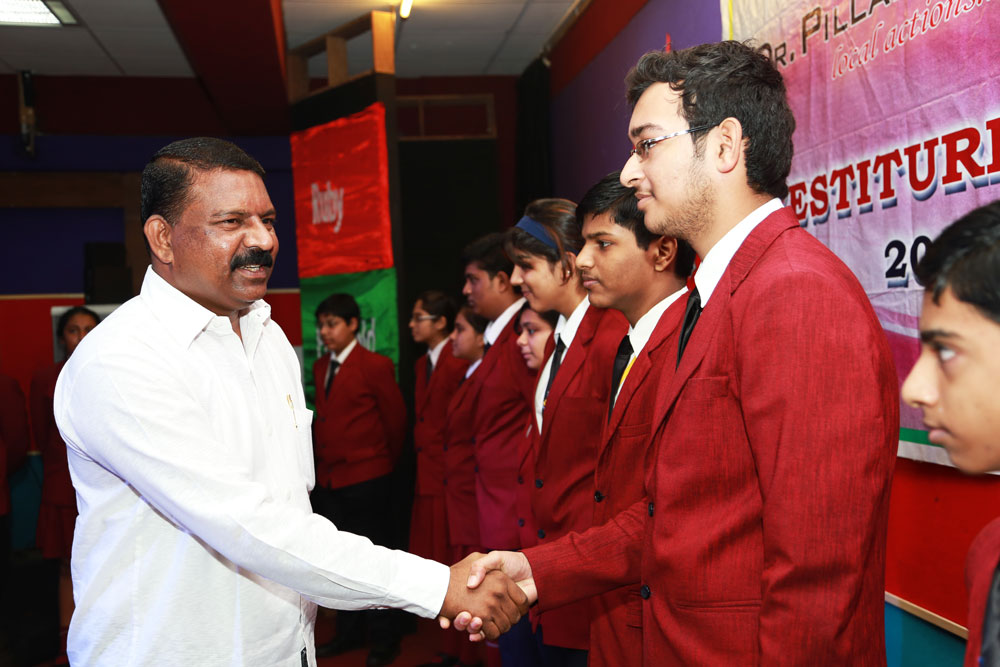 The student council marched onto the stage and the thumping of the march-past reverberated in the room. After the members settled and stood smartly on the stage, Mr. Sandeep Shinde escorted the chief guest for the introduction of the student council.
After the introduction of the student council, the Ex House Masters and Assistant House Masters handed over the sash and duty scroll to the New House Masters and Assistant House Masters, and as the sash and scroll were being exchanged the duties of the House masters and Assistant House Masters were being announced.
This was then followed by the awarding of the sash and badge to the Student Council members by the Chief Guest Mr. Anil Dhuri to the Head boy (Akash Jishnu) and Dpt. Head boy (Ajay Bade), The Principal to the Head Girl (Rhea Gill) and Dpt. Head Girl (Ria Munot), Mr. Pravin Kulkarni to the respective house captains of Ruby, Emerald, Sapphire and Topaz, Mrs Gill To Ruby and Emerald House Vice captains and Mrs. Shraddha Sardesai to Sapphire and Topaz house Vice Captains.
The Flag bearers were awarded their sash and badge after this and this was followed by the flags being handed over to the new council members. The oath was administrated by Mrs. Padmapriya. The ceremony ended with the parting speech of the Ex Head Boy and the speeches by the new Head Boy and Head Girl, the Chief Guest, Guest of Honour.
Though the ceremony was short, it will be forever cherished in our hearts